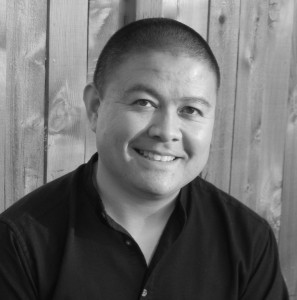 Ray Soriano (he/him/his) is an early childhood and school-age trainer, parent educator, program consultant, college instructor, teaching musician, and drumming event facilitator. A relentless advocate for children, Ray draws from over 30 years of service to children and families which includes preschool teaching, school-age care, child care administration, Head Start and ECEAP, therapeutic children's programs, parent education, public child welfare, violence prevention, and teaching drumming and music in schools and youth programs. Ray is a highly regarded facilitator and workshop presenter who has shared his passion and expertise with thousands of professionals, parents, and young people throughout Washington State. A first-generation immigrant of Filipino heritage, Ray honors diverse perspectives and is committed to anti-racism, inclusion, and social justice. Ray attained his Master of Social Work (MSW) from Eastern Washington University.
Ray is grateful to reside and work on the occupied ancestral lands of the Tulalip and other Coast Salish people, in Everett WA USA.  
Ray was the recipient of the Skagit County "Children's Champion" award in 2015 for his outstanding work serving children and families in the Skagit Valley.  Other highlights:
Feb. 2022: Keynote Presenter, WE Ignite Conference.  Topic: "Witnessing Others' Stories as an Act of Love and Solidarity"
Feb. 2021: Keynote Presenter, Eastern WA AEYC Conference. Topic: "Relationships, Reflection, & Learning Together"
Nov. 2019: Keynote Presenter, NW Association of Youth Museums Annual Conference. Topic: "Fostering Kindness and Compassion in Young Children"
Oct. 2019: Keynote Music Presenter, Cowlitz County Early Learning Conference
Aug. 2018: Keynote Presenter, Lower Columbia College Children's Programs. Topic: "Transcending the Trauma of our Work"
March 2018: Keynote Presenter, Skagit Valley Connections Early Learning Conference. Topic: "Inspiring Young Children to Care for Others and the World"
Feb. 2017: Keynote Presenter, Focus on Children Early Learning Conference, Whatcom County. Topic: "Five Ways to Help Children Thrive in a Beautiful but Challenging World"
Oct. 2015: Keynote Presenter, Eastern WA AEYC Conference. Topic: "The Power of Relationships"
Oct. 2014: Keynote Presenter, Snohomish Co. AEYC Rejuvenate Early Learning Conference.
---